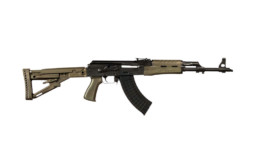 ZPAPM70 ZR7762G Semi-automatic Sporting Rifle
The semi-automatic ZPAPM70 series sporting rifle was created on the operating principle of the M70 automatic rifle. Over the decades, Zastava has produced millions of these durable rifles as the official weapon of many armies all over the world. Capable of functioning in all environments, its lightweight, rugged, reliable, no-nonsense features make the ZPAPM70 an excellent excellent addition to  your hunting and sporting rifle collection.
This model features Olive Drab Green polymer furniture and an stock that is adjustable for length of pull and cheek weld.
MSRP: starting at $879,99
---
---
Description
7.62 x 39mm
Semi automatic gas operated system
Double stack bolt
Stamped receiver
Cold hammer forged barrel
Available with 10 or 30 round detachable magazine
Bolt hold open notch on safety selector
Adjustable front & rear iron sights
7.9 Lbs
37″ overall length
16.3″ barrel length
Available in wood, black poly, flat dark earth poly, or olive drab poly furniture